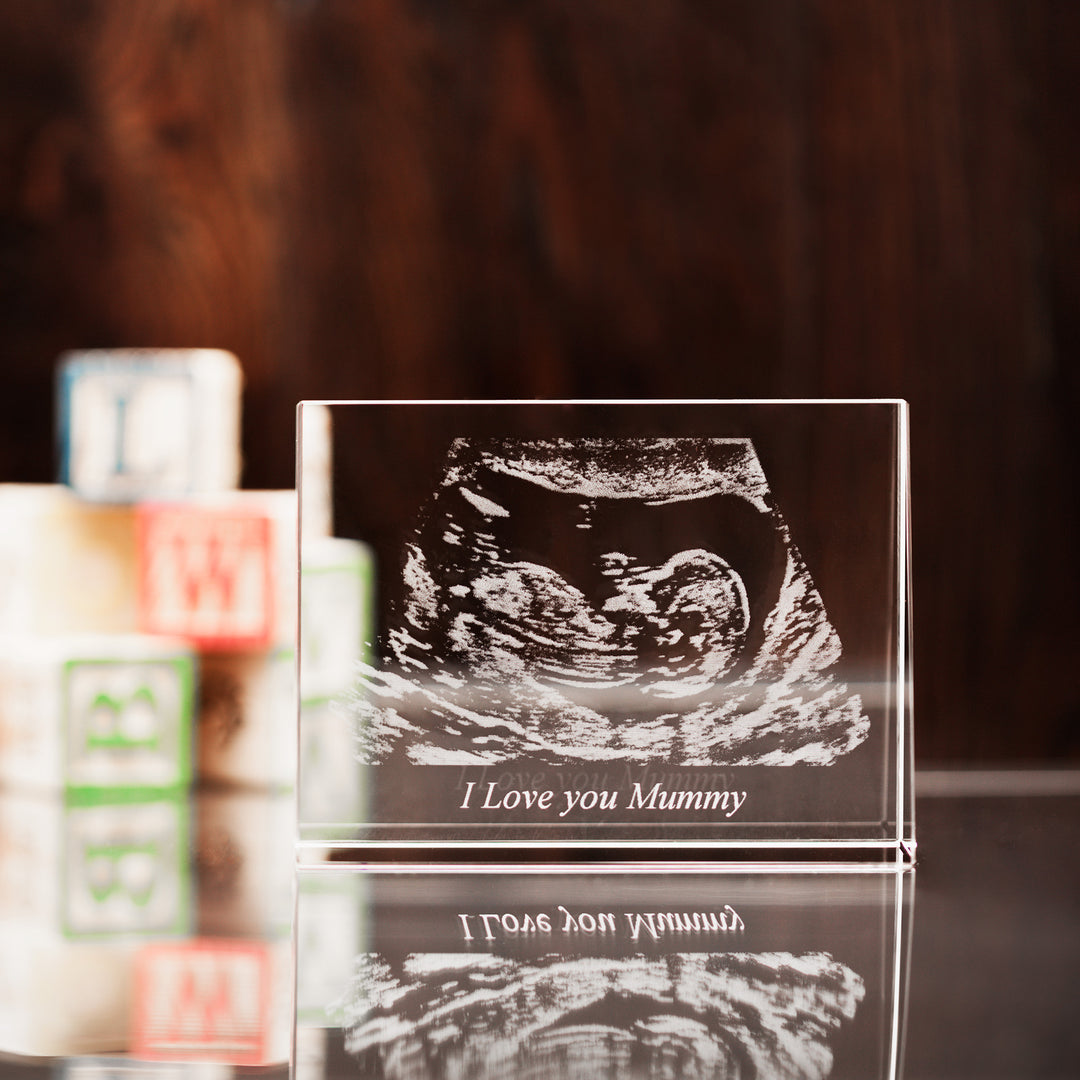 Baby Scan Engraved Photo Crystal - Small
Baby Scan Engraved Photo Crystal - Small
Availability:

In stock

Availability:

Inventory on the way
Regular price
£25.00
£25.00
Cherish the moments of your exciting Baby Scan,The Baby Scan Crystal Keepsake can be gifted to a new mom or dad, grandparents, friends and family members. this Photo Crystal is such a beautiful gift that you can use it as a décor piece or a presentation for your child in their growing years.
Order top-quality Baby Scan Crystal from InCrystals
One of the world's greatest joys is about becoming a mom or a dad. It is a happiness of a different kind – undefinable and can only be experienced, cannot be expressed in so many words! The nine-month journey of being a parent is filled with different emotions and sentiments, and one of the momentous feelings is when you get to see the ultrasound scan of your little one, safe and sound in the mother's womb. While you see the scan on the machine monitor, we at InCrystals offer the unique opportunity to Laser engrave the image of the baby scan on a crystal. It is a wonderful way to immortalize that moment of joy and make it a part of your daily life, long after the child has grown up and flown off on its own.
Thanks to innovative laser technology, we can give a meaningful rendition to any photograph, coloured or monotone. The photo can turned into a baby scan keepsake and can be engraved on any shape or size of the crystal to suit your preference and liking. The Baby Scan Crystal can be gifted to a new mom or dad, grandparents, friends, and family members. It is such a beautiful gift that you can use it as a décor piece or a presentation for your child in their growing years.
Why us?
Powered by the latest in laser technology.
It can be customized with a personal text message.
More than a decade of experience working with 3D Crystal technology.
Can render all kinds of images. Our Baby Scan Crystal is one of the most popularly ordered by our customers for the emotional attachment with the scanned photograph.
We can engrave the baby scanned image on any crystal shape and size.
We use premium crystal quality following the best industry-grade practices.
We ensure prompt delivery, including next-day and standard deliveries.
Measures : 80x60x23mm
What's included :
Laser Engraved photo of your Baby Scan
Free Delivery in 3 to 5 working days
Free Personal Text Message
Free Velvet lined presentation box
Other Information
Shopping with us is an Art - Feel Free to become an Artist
Delivery & Return
Since 2005 , we've been at the forefront of creating laser photo crystals and photo gifts using advanced digital technology. We like to think of ourselves as pioneers turning your photos into a range of long lasting gifts.
 As far as the people running the business are concerned there is the head honcho and his pa, the techie boys and girls, our talented artists and our hardworking customer service team. We are a small team and we love what we do. What's not to like about making people happy? But we don't like to blow our own trumpet too much. We leave that to our customers. If you've googled 'Incrystals Review' at any point, you'll know what we mean.
That's important. Customers turn to us for memorable gifts for important occasions. Put like that, you'd want to know, your special gift was in safe hands, right? This doesn't just mean creating a wonderful gift, but also making sure it gets to the right destination on time. We do both rather well.So what's all the fuss about? If you want to surprise someone with an unusual gift, even thrill them with your thoughtfulness, then our crystal photo gifts are for you.
We use technology to turn photos into crystal by etching the image on the crystal or gift. And to this day we leave no stone unturned to assemble a superior range of gifts ranging from Crystal Frames to 3D Pet Photo Crystals to Personalised Photo Gifts.
We laser etch photos in 2D and even 3D to create 'true to life' images. The 3D photo crystals have to be seen to be believed. Check them out. It all sounds hi-tech because it is. But behind the scenes, our team make the process of creating your own crystal or gift easy. All you have to do is upload an image to our website when ordering. And if the internet is not your thing, you'll find our customer service team on hand to help you order.
Primarily we work with digital photos but we are clever enough to be able to work with traditional photographs if they are in reasonable condition. And there is free stuff too. We like FREE. A free text engraving of the message of your choice on all gifts and Free UK delivery on all orders.