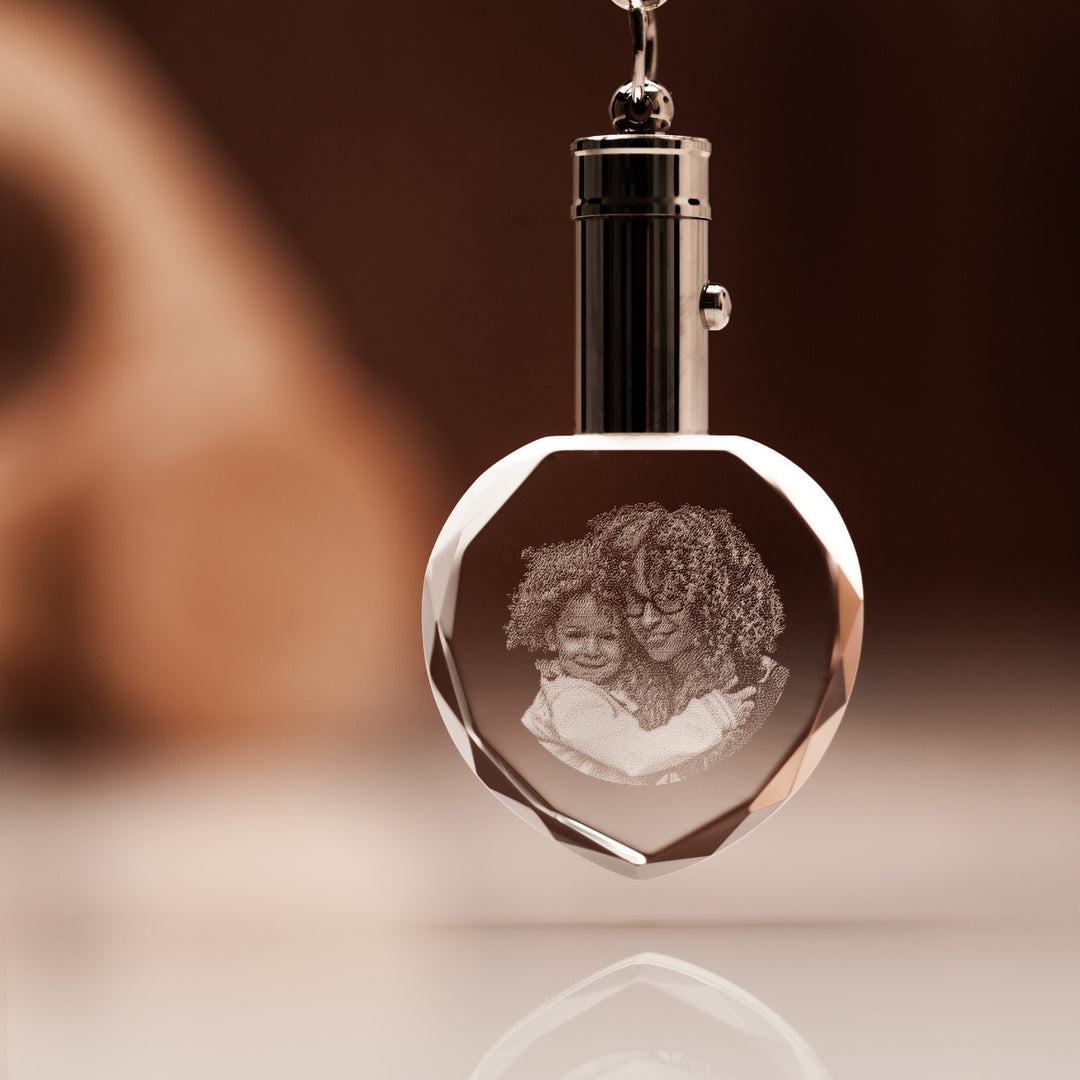 Heart Keychain - With LED light
Heart Keychain - With LED light
Availability:

In stock

Availability:

Inventory on the way
Regular price
£22.00
£22.00
Heart Keychain with LED
Your Photo will be digitally etched onto a glittering block of high-quality glass and make great surprise gifts or memorials.
Heart Shaped Crystal Keychain is perfect for your favourite photo. Have it transformed into a realistic 2D photo gift personalized with the text message. Heart shaped crystal keyring can be designed in portrait or landscape (cropped to shoulder height)
Choose your favourite meaningful photo and have it etched into a crystal. A keychain is a great way to pack a big punch into a small package. Engraving day to day items such as keyrings is an easy way to add fun and meaning to an otherwise banal gift.
The keychain comes in its own box so you don't even have to worry about fancy packaging.
Measures: 30x20x15mm with a 1mm bevel
The LED light is activated via push button and it is a PINK LED. The energy source is 3 coin cells.
Click here to find more keychains Photo Crystal Keyrings
Free Personal Text Message
Free Velvet lined presentation bag
*The price includes photo editing (removing background), printing, and delivery plus your choice of message. It works really well for a portrait or pet photo and has a timeless quality to the design, appealing to young and old alike*
Delivery & Return
Since 2005 , we've been at the forefront of creating laser photo crystals and photo gifts using advanced digital technology. We like to think of ourselves as pioneers turning your photos into a range of long lasting gifts.
 As far as the people running the business are concerned there is the head honcho and his pa, the techie boys and girls, our talented artists and our hardworking customer service team. We are a small team and we love what we do. What's not to like about making people happy? But we don't like to blow our own trumpet too much. We leave that to our customers. If you've googled 'Incrystals Review' at any point, you'll know what we mean.
That's important. Customers turn to us for memorable gifts for important occasions. Put like that, you'd want to know, your special gift was in safe hands, right? This doesn't just mean creating a wonderful gift, but also making sure it gets to the right destination on time. We do both rather well.So what's all the fuss about? If you want to surprise someone with an unusual gift, even thrill them with your thoughtfulness, then our crystal photo gifts are for you.
We use technology to turn photos into crystal by etching the image on the crystal or gift. And to this day we leave no stone unturned to assemble a superior range of gifts ranging from Crystal Frames to 3D Pet Photo Crystals to Personalised Photo Gifts.
We laser etch photos in 2D and even 3D to create 'true to life' images. The 3D photo crystals have to be seen to be believed. Check them out. It all sounds hi-tech because it is. But behind the scenes, our team make the process of creating your own crystal or gift easy. All you have to do is upload an image to our website when ordering. And if the internet is not your thing, you'll find our customer service team on hand to help you order.
Primarily we work with digital photos but we are clever enough to be able to work with traditional photographs if they are in reasonable condition. And there is free stuff too. We like FREE. A free text engraving of the message of your choice on all gifts and Free UK delivery on all orders.